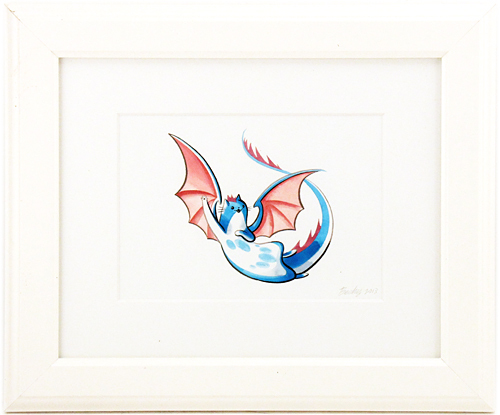 #150 Olmega
Share this Item
Art Height:
5.0" (12.7 cm)
Art Width:
7.0" (17.78 cm)
Frame Height:
10.0" (25.4 cm)
Frame Width:
12.0" (30.48 cm)
Olmega is believed to be a living dinosaur, with sightings dating back to pre-creature history. The exact relationship between Olm and Olmega is subject to many unsubstantiated theories, none of which are worth discussing here. Olmegas keep order in the most restless regions of the creature kingdom using their robust tail. The spikes which dot their tail are the consistency of glass, containing small reactors of energy that burst on contact. It should go without saying, but you should really avoid Olmega's tail.
More Views
Options
Learn more about Becky Dreistadt's year-long project showcasing 151 creatures hand-painted by the artist, accompanied with imaginative stories by her partner Frank Gibson culminating in a fantastically fun exhibit and book release.
More details
I want this as a print!
We can't promise prints for every piece, but if the interest is high, it may be an option.