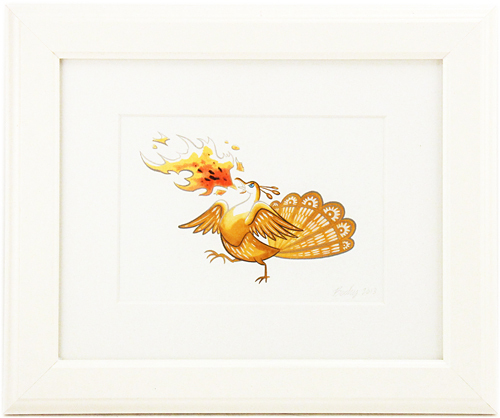 #147 Charcalk
Partager un objet
Art Height:
5.0" (12.7 cm)
Art Width:
7.0" (17.78 cm)
cadre Hauteur:
10.0" (25.4 cm)
cadre Largeur:
12.0" (30.48 cm)
Charcalk is a much sought after ornamental creature. Superstitiously considered a symbol of power and influence, prominent clans have always wished to display such a powerful and striking beast. The creature thoroughly resists any kind of domestication and must be carefully kept to avoid injury. Charcalk's metallic tail-feathers are used to shield itself from the attacks of other fire creatures, with which it has a combative relationship. Attempts at taming Charcalk are ill-advised.
Plus de vues
Options
Learn more about Becky Dreistadt's year-long project showcasing 151 creatures hand-painted by the artist, accompanied with imaginative stories by her partner Frank Gibson culminating in a fantastically fun exhibit and book release.
More details
Je le souhaite comme tirage!
Nous ne pouvons promettre des tirages pour chaque pièce mais si l'intérêt est grand, cela peut être une option.