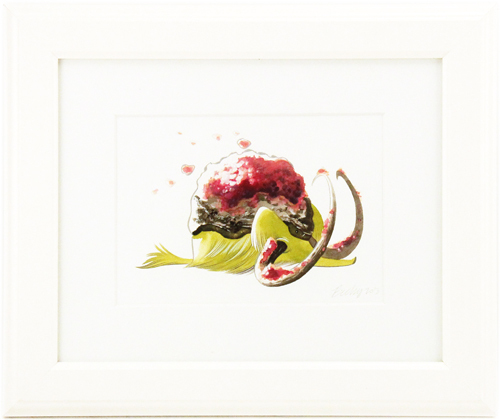 #088 Earthdom
Share this Item
Art Height:
5.0" (12.7 cm)
Art Width:
7.0" (17.78 cm)
Frame Height:
10.0" (25.4 cm)
Frame Width:
12.0" (30.48 cm)
If Earthkin's hibernation ends early, it evolves into Earthdom. More aggressive than the creature that came before it and the one that follows, Earthdom are frustrated by the interruption of their slumber. Its new threatening tusks are used to protect itself while the creature continues to develop without the protection of the earth. These tusks are shed to begin its final evolutionary state. Despite its new offensive tools, Earthdom is very vulnerable.

More Views
Options
Learn more about Becky Dreistadt's year-long project showcasing 151 creatures hand-painted by the artist, accompanied with imaginative stories by her partner Frank Gibson culminating in a fantastically fun exhibit and book release.
More details
I want this as a print!
We can't promise prints for every piece, but if the interest is high, it may be an option.