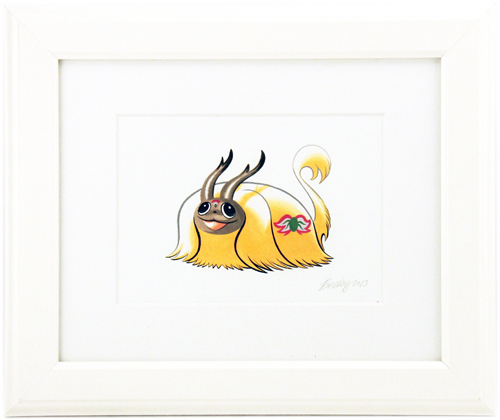 #065 Hapynese
Share this Item
Art Height:
5.0" (12.7 cm)
Art Width:
7.0" (17.78 cm)
Frame Height:
10.0" (25.4 cm)
Frame Width:
12.0" (30.48 cm)
Hapynese are creatures that do not usually evolve in the wild as they only evolve following extended periods without stress. This evolution is encouraged by many owners for the visual appeal of its thick coat and ornamental horns. Even today Hapynese are status symbols in the upper echelons of society.
More Views
Options
Learn more about Becky Dreistadt's year-long project showcasing 151 creatures hand-painted by the artist, accompanied with imaginative stories by her partner Frank Gibson culminating in a fantastically fun exhibit and book release.
More details
I want this as a print!
We can't promise prints for every piece, but if the interest is high, it may be an option.