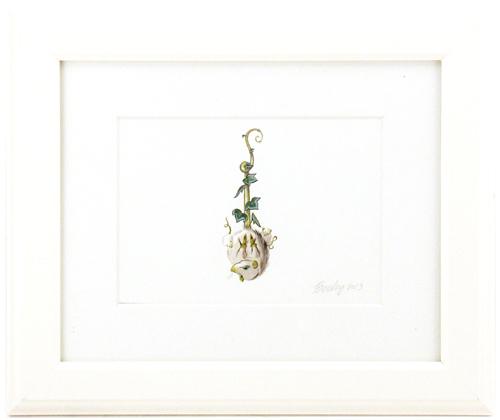 #063 Vinopossum
Share this Item
Art Height:
5.0" (12.7 cm)
Art Width:
7.0" (17.78 cm)
Frame Height:
10.0" (25.4 cm)
Frame Width:
12.0" (30.48 cm)
Young Vinopossum begin their lives camouflaged under the leaves that sprout from their parents' tails. When they are too large to be concealed by the leaves, but not old enough to fend for themselves, they find a new home in their parents' thick fur. When frightened or startled, Vinopossum encapsulate themselves in their tail for protection.
More Views
Options
Learn more about Becky Dreistadt's year-long project showcasing 151 creatures hand-painted by the artist, accompanied with imaginative stories by her partner Frank Gibson culminating in a fantastically fun exhibit and book release.
More details
I want this as a print!
We can't promise prints for every piece, but if the interest is high, it may be an option.