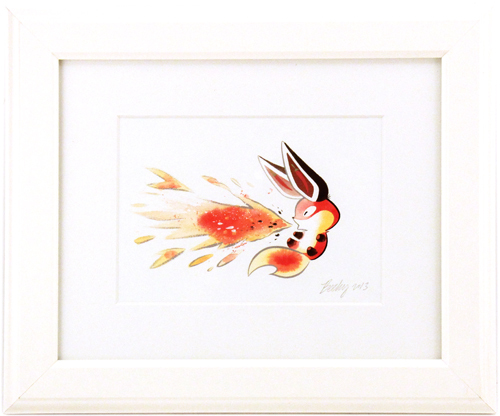 #053 Firrecc
Share this Item
Art Height:
5.0" (12.7 cm)
Art Width:
7.0" (17.78 cm)
Frame Height:
10.0" (25.4 cm)
Frame Width:
12.0" (30.48 cm)
Firrecc is an evolution of Foxecc. Grazing on the peppers native to the desert it dwells in, the Firrecc gradually learns to harness the powers of its fiery food-source. Unlike other evolutions of Foxecc, it remains in the desert, coexisting peacefully in packs alongside its pre-evolution.
More Views
Options
Learn more about Becky Dreistadt's year-long project showcasing 151 creatures hand-painted by the artist, accompanied with imaginative stories by her partner Frank Gibson culminating in a fantastically fun exhibit and book release.
More details
I want this as a print!
We can't promise prints for every piece, but if the interest is high, it may be an option.